The View as you enter Christ Church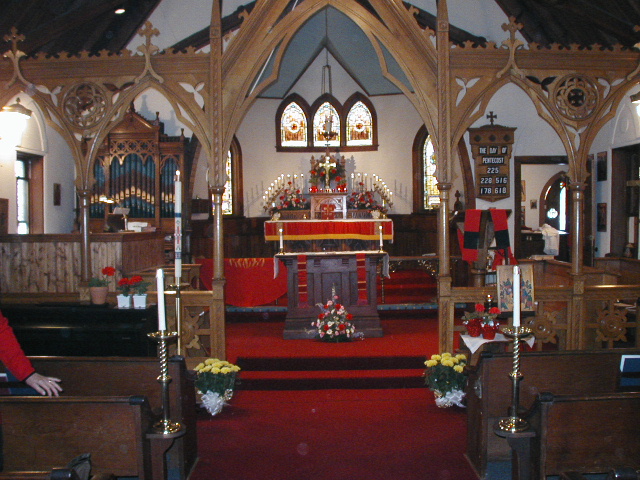 Christ Church traces its beginnings to 1856 as the first settlers came to Bayfield expecting to build a great inland seaport.
In 1857, C.E. Rittenhouse donated land for the church. Prosperity came with outbreak of the Civil War, creating a demand for the area's lumber.
In 1870, after the war, the nave was erected from local white pine lumber and the mission was formally organized in the Diocese of Wisconsin under Bishop Jackson Kemper. Later diocesan reorganizations put Christ Church in the Diocese of Fond du lac and then, currently, the Diocese of Eau Claire.
A bell tower, apse, chancel and high altar were added to the building in 1893. The original hand-hewn pews are still in use. Tiffany-style stained glass windows make the apse particularly charming.
The harmonium was built in 1893 by Story and Clark of Chicago. It is in excellent condition and is used regularly. The church is listed in the National Register of Historic Places.
In June 1996, the high altar was renovated, and the tabernacle door was opened and fashioned with an antique lock. A hanging sacrament lamp, which burns perpetually, indicates that the Blessed Sacrament is reserved in the tabernacle.
The original altar from circa 1873 was found and placed in the chancel as free standing and is now used for the celebration of the Eucharist.