Our Lady of Walsingham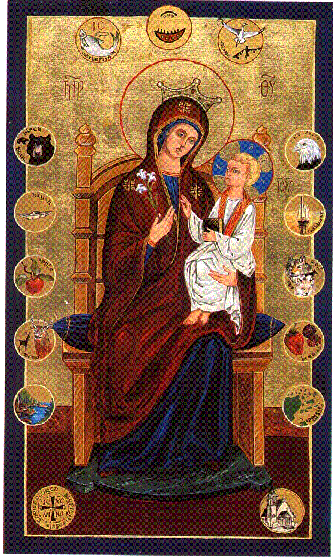 On August 15, 1996, a beautiful hand-painted icon of Our Lady of Walsingham was consecrated by Bishop Wantland. The Icon was painted by Pennsylvania artist Christine Pohuly and is unique in that in addition to the figures of Mary and the Christ Child, symbols of the region, Bayfield, and Native American art surround them.
Included are the wolf, the bear, the deer and other animals common to the area. Berries and other symbols depict the unique life of Bayfield - the fishing boat, providing a livelihood... reminds us of God the Father - the fish is an ancient symbol of Our Lord Jesus Christ. The Crane - Ajijaak - seldom speaking, always wise, symbolizes God the Holy Spirit.
Click on each medallion for a closer view and use your browser's back button to return to this page.